Next Book Club Meeting … 1 August 2020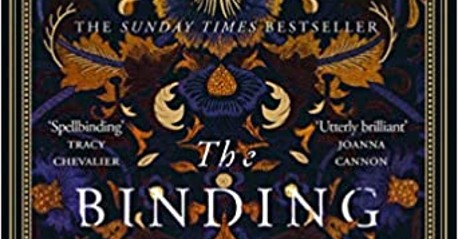 THE BINDING by Bridget Collins.
'Young Emmett Farmer is working in the fields when a strange letter arrives summoning him away from his family. He is to begin an apprenticeship as a Bookbinder—a vocation that arouses fear, superstition, and prejudice amongst their small community, but one neither he nor his parents can afford to refuse.
For as long as he can recall, Emmett has been drawn to books, even though they are strictly forbidden. Bookbinding is a sacred calling, Seredith informs her new apprentice, and he is a binder born. Under the old woman's watchful eye, Emmett learns to hand-craft the elegant leather-bound volumes. Within each one they will capture something unique and extraordinary: a memory. If there's something you want to forget, a binder can help. If there's something you need to erase, they can assist. Within the pages of the books they create, secrets are concealed and the past is locked away. In a vault under his mentor's workshop rows upon rows of books are meticulously stored.
But while Seredith is an artisan, there are others of their kind, avaricious and amoral tradesman who use their talents for dark ends—and just as Emmett begins to settle into his new circumstances, he makes an astonishing discovery: one of the books has his name on it. Soon, everything he thought he understood about his life will be dramatically rewritten.
An unforgettable novel of enchantment, mystery, memory, and forbidden love, The Binding is a beautiful homage to the allure and life-changing power of books—and a reminder to us all that knowledge can be its own kind of magic.'
INSTRUCTIONS:
Read the book and join us for a lively discussion about the contents during our afternoon book club meeting.
PLEASE NOTE:
Following government guidelines with regard to the Corona-virus, this experience will be conducted ONLINE instead of face-2-face.
This means that you may log into the discussion via your PC, laptop, or mobile device through the link that is shown in the details. You will then be able to participate via video and audio from the comfort of your home.
We will resume face-2-face meetings at De Overburen once things have settled and it is again safe for everyone.
So everyone, be safe, stay healthy, and looking forward to seeing you on-line.
Best regards,
Sandra
See all our Book Club meetings on: www.meetup.com/Amersfoort-English-Book-and-Movie-Club/